GENEALOGY IN THE SUNSHINE 2015
<![if !vml]>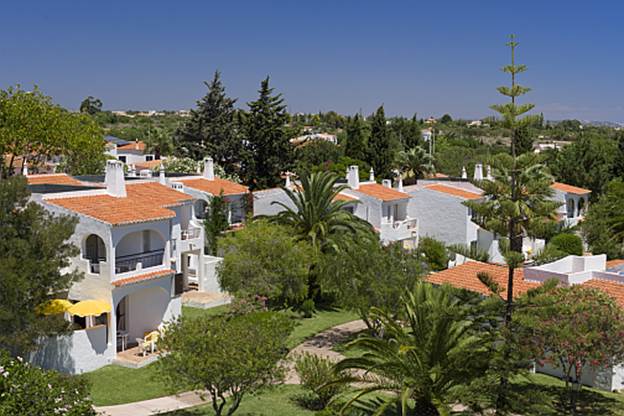 <![endif]>
HIGHLIGHTS
* Stay at the Rocha Brava Village Resort near Carvoiero, on the Algarve (the southern coast of Portugal); it's a beautifully tranquil cliff-top setting - my wife and I bought a quarter-share in a one-bedroom apartment 6 years ago and we love the place.
* Self-catering accommodation around £99 per person for 7 nights (based on two people sharing a 1-bedroom apartment with full bathroom and kitchen, lounge/diner and terrace or patio).
* If you are travelling on your own I'll do my best to match you up with another attendee; the cost will be about £122 per person in a 2-bedroom apartment (shared bathroom). Or bring a friend or relative along for a holiday.
* Return flights from the UK as little as £100 per person including taxes.
* Course dates Saturday 14th - Saturday 21st March 2015, but there will be no formal sessions on either Saturday; you are welcome to arrive early or stay later for a small additional charge - this year the average stay was 10 nights.
<![if !vml]>

<![endif]>* Excellent line-up of speakers including Else Churchill from the Society of Genealogists (pictured, left), an <![if !vml]>

<![endif]>incredibly experienced speaker, writer and key representative of the genealogical community; Chris Paton (pictured, right), an Irish-born but Scottish-based professional family historian, author and tutor; John Hanson, who writes extensively on family history and has lectured all over England (including at WDYTYA Live) and is currently Research Director of the Halsted Trust, an educational charity that promotes family history research through One-Name Studies; DNA expert Debbie Kennett, author and Honorary Research Associate in the Department of Genetics, Evolution and Environment at University College London; and Professor Rebecca Probert from the University of Warwick, who is an expert on marriage law and practice over the centuries.
* We'll also be hearing from Donald Davis, the Canadian researcher who discovered that some <![if !vml]>

<![endif]> of the original 1841 Census forms for Shropshire had survived; also from Canada is John D Reid (photo, right), author of the influential blog Canada's Anglo-Celtic Connections. More speakers will be announced shortly!
* There will be an exclusive area on the LostCousins Forum to enable attendees and speakers to introduce themselves ahead of the course, keep in touch during the course, and exchange information and tips. Look out especially for tips from those who were on the inaugural course in March 2014!
* Typical late March weather on the Algarve: daytime high of 66 degrees, night-time low of 49 degrees with between 7 and 8 hours of sunshine per day (in fact, it's rather like June in England).
CAN I BRING FRIENDS/RELATIVES WHO AREN'T ON THE COURSE?
Non-participating friends and relatives are welcome - the price of the apartments doesn't depend on the number of occupants.
WILL WE BE ABLE TO TRAVEL INDEPENDENTLY?
Yes - indeed that's the only way it will work. I can't offer a complete package because then I'd have to become a travel agent (or get a travel agent involved, which would push the price up considerably), so you will need to make your own travel arrangements. The nearest airport is Faro, which has flights from/to many destinations (for example, there are direct flights from about 20 UK airports).
Of course, I'll do my best to help and advise you - as usual my advice is free.
HOW MUCH WILL IT COST TO GET THERE?
When I last checked Ryanair were quoting £57.99 for a flight from London Stansted to Faro on Friday 13th March; a return flight on Sunday 22nd March was £42.99
Ryanair also fly to Faro from Birmingham, Bournemouth, Bristol, East Midlands, Glasgow, Leeds, Liverpool, Londonderry, and Manchester.
Easyjet fly to Faro from Belfast, Bristol, Gatwick, Luton, Glasgow, Newcastle, and Southend.
Faro is about an hour's drive from Rocha Brava - there are transfers available but I've never personally used them because car hire is so cheap (but my wife has). In the past I have flown to Seville or Jerez in Spain and driven from there – if you have time to spare and an adventurous nature there are all sorts of options!
Tip: when booking on Ryanair you can usually save money by booking the return journey separately (because if you pay for the return journey in Euros it usually works out cheaper - for example the return flight to Stansted on Sunday 22nd March is 48.99 Euros, which is less than £40).
IS A CAR ESSENTIAL?
No, but thoroughly recommended - it not only saves the cost of transfers to and from the airport, it also saves on the cost of food and drink (which is much cheaper in the supermarkets than in the local mini-markets).
Car hire for 1 week currently costs from as little as £29 per week for advance bookings (including unlimited mileage and Collision Damage Waiver). After trying many other car rental companies I've discovered that Enjoy is by far the cheapest, and it's the only one of the low cost websites which has a "fair fuel policy", which means that you're never forced to buy a full tank of fuel which you may not use. By the way, if you use the following link LostCousins should get a small commission:
https://www.enjoycarhire.com/?affiliate=LC
If you don't hire a car you might make friends with another couple who have - I'm sure that we'll all do our best to help each other out.
Tip: don't book your car through an airline - it's likely to be MUCH more expensive.
If you're of a cautious nature you can also save money on insurance with a policy from insurance4carhire (£39.99 for unlimited rentals in the UK & Europe up to 60 days per year). This replaces the excess insurance that car hire companies sell, and which can cost anything from £5 to £10 per day!
Note: if you've taken my advice about car hire you'll be picking up your vehicle from Car Park 4. Don't follow the signs for rental cars after coming through customs, instead go out of the terminal and turn left (ie in the direction of departures), continuing until you see a sign for Car Park 4. It's quite a long walk (but you have to walk just as far if you book a car from an expensive company).
TRANSFERS
If you prefer not to hire a car then there's a low-cost shuttle that will take you all the way from Faro Airport to Rocha Brava reception - for under £10 per person each way. It's ideal if you're arriving late at night.
When booking specify Carvoeiro as the town, then give the address as Rocha Brava.
Tip: You can also book a private transfer through the same site - if there are 4 or more travelling it is only slightly more expensive than a shuttle.
HOW LONG WILL THE COURSE LAST?
The formal proceedings will commence on Sunday afternoon and end on Friday evening, but you can arrive earlier and leave later and enjoy the sunshine - you'll probably find that be travelling midweek you pay less for your flights. I will be arriving a few days early and staying on for a second week to recover!
MY SPOUSE/PARTNER ISN'T INTERESTED IN FAMILY HISTORY
No problem - there are lots of other things to do. Apart from the beautiful grounds and the facilities at the resort there are many attractions in the area. This article will give you some ideas:
http://www.hpb-rochabrava.com/articles.aspx
You can walk long the cliffs to either aside of Rocha Brava (but don't try to cross the gulley in the middle as it's pretty challenging). The Algarve is renowned for birdwatching - a Google search brings up lots of results. If you've got Google Earth on your computer just type in 'Rocha Brava' to be transported to the resort!
<![if !vml]>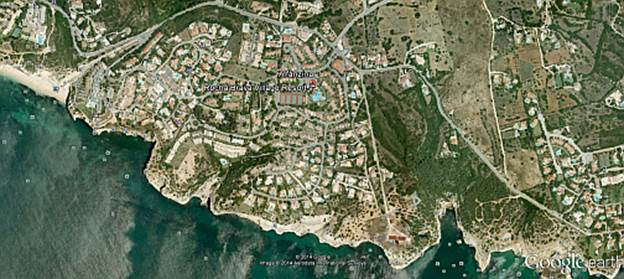 <![endif]>
On one or two evenings during the week I'll be organising a Safari Supper - this is optional but great fun, especially if you have come on your own or have brought a non-participating spouse who might be feeling left out.
WHAT IS THE ACCOMMODATION LIKE?
There are over 400 properties in the resort, mainly one- or two-bedroom apartments (though there are also some big villas), built in a traditional Algarve style on an estate which extends to nearly 60 acres. It's a low rise development, so all accommodation is on the ground floor or first floor, and all apartments have their own entrance (in the UK we'd call them maisonettes).
The apartments are privately-owned, and many of the owners stay there for part of the year. This means that every apartment is different – whilst there are minimum standards that owners need to meet before being considered for the rental system, many apartments have extras, and they all have little personal touches.
All the apartments have full kitchens so you can eat as cheaply as you would at home (and drink much more cheaply - I've found a perfectly drinkable wine that costs just over a pound a bottle!). They also have washing machines, so you don't need to bring a lot of luggage (but be warned that most apartments don't have a tumble dryer or a dishwasher).
Rocha Brava is a NO SMOKING resort.
<![if !vml]>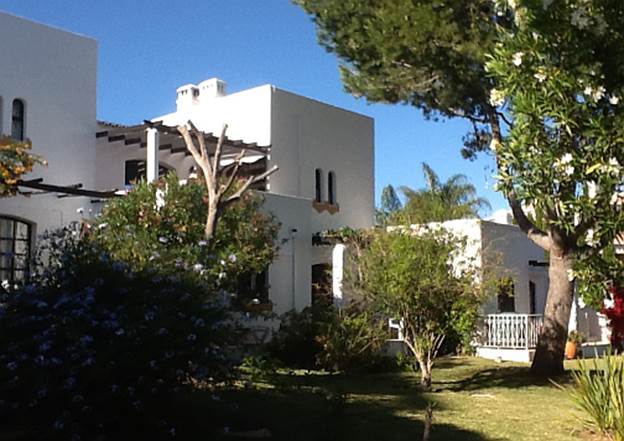 <![endif]>
HOW MUCH DOES THE ACCOMMODATION COST?
The current price is 35.50 Euros per night for a one-bedroom apartment, usually with two single beds (and an additional sofa bed or Z-bed in the lounge if required). For 7 nights this works out at about £197 at the current exchange rate.
A two-bedroom apartment (1 double bed and 2 single beds) would cost 43.50 Euros per night, or about £244 at the current exchange rate.
There are also larger apartments and villas for those of you with bigger families (or bigger budgets), or if you want a superior apartment (with a seaview).
THE COST OF THE ACCOMMODATION IS THE SAME IRRESPECTIVE OF OCCUPANCY AND WHETHER OR NOT YOU ARE ALL ATTENDING THE COURSE.
No food is included in the price, but I am hoping that we will once again have an end-of-course meal, and if so this will be extra (this year it was 27 Euros for a 3 course dinner with wine, water, and coffee). Those of you who came in March 2014 will know that we completely filled the restaurant, so unless I can find a larger venue we may have to restrict the dinner to attendees and speakers only.
I'll explain how to book accommodation in a week or two, once the survey forms have been returned - please DON'T book your accommodation yet otherwise you won't benefit from special treatment (and could end up paying more than you need to).
STANDARD FACILITIES IN ALL APARTMENTS
Fridge freezer, electric oven and hob, washing machine, microwave, coffee machine, kettle, toaster, ironing board and iron, TV (with most of the main free UK channels)
NOT INCLUDED
Hairdryer, bathrobes
AVAILABLE FOR HIRE FROM RECEPTION
Beach towels
WIFI
WiFi had just been installed across the resort when we visited in March. It's free for guests - but please note that it's not intended for audio or video streaming, only for emails and websurfing.
If you bring your laptop, tablet, or phone make sure you bring a UK to European adaptor. I will have a couple of extras in case of emergency - I bought a pack of 5 adaptors for £3.30 here.
WHAT COMMUNAL FACILITIES ARE THERE AT ROCHA BRAVA?
There are four tennis courts, a gymnasium/fitness room, and three swimming pools, although only the smallest one is heated and in use in March (this year the heated pool was an open air pool - in 2015 we should have access to a covered heated pool).
<![if !vml]>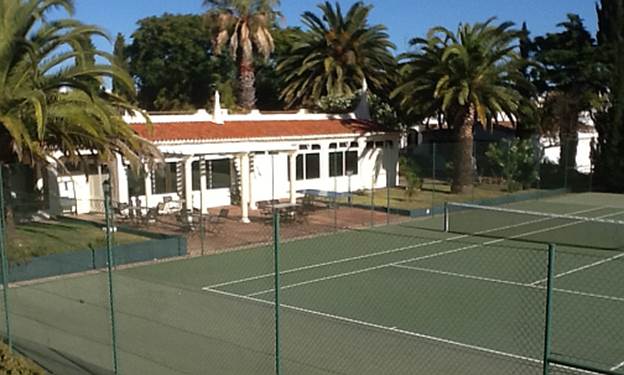 <![endif]>
There's also a table tennis table (but it's outside, so challenging if there's a breeze) and there's a pool table and other games in the Club Room. There are charges for tennis, table tennis and use of the gym (which will only be open in the mornings during the course, as we're using part of the area for the course in the afternoons); you'll need to pay in cash. Rackets and balls are available for hire if you decide not to bring your own - or you can buy them at the SportsDirect.com store on the way from the airport.
There is a restaurant, a café/bar, and a mini-market within the resort, and the reception is staffed 24 hours a day, 7 days a week.
Just outside the main entrance of Rocha Brava there are two restaurants, and there are two more within a short walk in the direction of Carvoeiro and the beautiful beach at Vale de Centianes (on the left in the Google Earth photo above). If you leave Rocha Brava from the far side there's a back road leading down to the beach where you'll find shops, cafes, and bars.
CURRENCY
Other than the course fee everything needs to be paid for in Euros, even if I've quoted an equivalent in pounds; if you're happier working with amounts in your own currency a good site to check exchange rates is XE.com, which quotes the mid-market rates that banks pay (your bank will probably add 2% commission).
There is no ATM on site - the nearest is about 2 miles away on the road leading into Carvoeiro village, but I usually go to the Intermarche supermarket on the road to Lagoa which is a little further away. However, I don't generally need much cash - almost all the shops accept credit cards, although the minimarket has a lower limit of 10 Euros for card payments. Rocha Brava will accept credit card payment for your accommodation.
Tip: there's an ATM at the airport, so you can draw cash on arrival.
ATMs in Portugal are not allowed to charge fees - you'll only pay what your bank charges. You may find that it's cheaper to use a credit card rather than a debit card - it depends on the fee structure and how much you are drawing (200 Euros seems to be the limit in any one transaction); I use my Saga Platinum credit card as the 2% charge is very competitive.
Tip: if you have a Nationwide FlexPlus current account you can draw cash abroad without paying any commission using your FlexPlus debit card.
HOW FAR IS THE BEACH
It's a 10 minute walk to the nearest beach, and there are several other beautiful beaches within 5 miles. The sea will be too cold for swimming, but the views will be stunning, and on sunny days it will be warm enough for sunbathing - so you might even go home with a tan!
WHAT ELSE IS IN THE AREA
There is a 9 hole par 3 golf course within walking distance and there are many restaurants, bars, and shops nearby. The new Aqua Shopping Center in Portimao is highly recommended (about 20 minutes drive), but there are several supermarkets which are much closer (though none within walking distance). The resort provides a free bus service to Carvoeiro (about 2 miles away) three times a day, and the local taxis are reasonably-priced.
For serious golfers there is an 18 hole par 71 course a bit further away which offers reduced rates in low season.
DO THEY SPEAK ENGLISH?
I don't speak Portuguese but I've never found this to be a problem – almost everyone involved in the tourist industry in Portugal speaks English and you'll find that many people in shops do too.
WHAT ABOUT THE COURSE ITSELF?
We'll be running most sessions in the afternoon, leaving you mornings and evenings free, although there will be workshops and special interest sessions most mornings for those who want to attend.
Because some of the people coming in 2015 also attended this year's inaugural event there will be two tracks; closer to the time you'll be invited to choose which sessions you want to attend. You can download the March 2014 timetable if you follow the link below, but please bear in mind there will be more speakers and more choice in 2015.
http://forums.lc/genealogy/index.php?threads/course-timetable.1355/
HOW MANY PEOPLE WILL ATTEND?
We're limited by the size of the room we'll be using and by the number of apartments that we've been able to reserve, so I'm anticipating there will be about 70-75 of us including speakers.
IMPORTANT NOTE: information given here is believed to be correct at the time of writing and current exchange rates have been used. Some details may change due to circumstances beyond the control of LostCousins but changes may also be made in order to improve the experience for the majority of attendees. It is your responsibility to take out travel insurance if required, and please note that if you are visiting from outside the EU you may need a visa or other permit.